http://pesn.com/2013/06/07/9602328_USA_Internal_Spying_Disclosures_Triggering_Slippage_of_Big_Brother_Control/
You are here: PureEnergySystems.com > News > June 7, 2013
Are US Internal Spying Disclosures Signifying Slippage of Big Brother Control?
The US Government's data fishing expedition recently unexposed has citizens outraged at this blatant disregard for several Constitutional provisions. The mainstream news, usually complicit in such conspiracies, shows the extent to which people are waking up.

Stash: The government has been tight-lipped about what will be stored in the center's four 'data halls' (DailyMail)

Powerhouse: The images came as it emerged the government is secretly collecting the telephone records of millions of Verizon customers, as well as data from companies including Facebook and Google (DailyMail)

Bombshell: A leaked powerpoint slide shows how the NSA and FBI have been extracting audio, video, photos, e-mails, documents and other data from large Silicon Valley companies for six years (DailyMail)

Construction: The Utah Data near Bluffdale, where personal data extracted by the NSA could be stored (DailyMail)

Mystery: A close-up section of NSA's Utah Data Center is shown in Bluffdale on Thursday (DailyMail)

Storage: An aerial photograph shows the center, which is expected to be completed this October (DailyMail)

Will your information be in there? Another drawing shows halls where the data will be kept (DailyMail)
by Sterling D. Allan
Pure Energy Systems News


I've been astonished in the past few days as some UK mainstream news organizations have taken leadership in exposing Big Brother spying tactics in the US. The reasons this is astonishing is because usually mainstream media, which we call "presstitutes" are in on the cover-up and corruption, thus allowing it to continue unchecked.

Hence the alternative media has been growing logarithmically because people are waking up to the corruption and seeing the irrelevance of mainstream anything when it comes to cutting edge understandings. Furthermore, the more people wake up, the more they realize, as David Icke stated so eloquently: "Everything is backwards; everything is upside down. Doctors destroy health, lawyers destroy justice, universities destroy knowledge, governments destroy freedom, the major media destroys information, and religions destroy spirituality." And, I might add, power companies ignore power solutions that would render them obsolete by empowering the people.

Here is a sampling of some of the recent coverage on the subject of a US spy mentality way out of control:
(With a few updates in the links.)
[Tangent Note: If you like the above compilation, you might consider subscribing to my off-topic daily news I send out, compiled by my friend, David Cleveland. I usually include the daily Free Energy News bullets at the end of those, if they are ready.]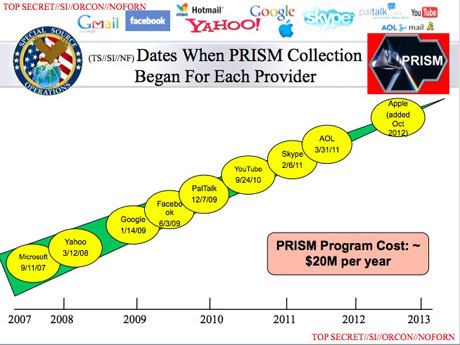 Source: Guardian.co.uk [Note the 9/11 commencement]
People often criticize me for sometimes covering things that on the surface don't seem to be relevant to exotic free energy. However, especially when it comes to the conspiracy to establish a global tyranny, these things are very relevant to exotic free energy, because those same players are behind the suppression of energy solutions that empower, rather than enslave people.

So the fact that mainstream news is covering the conspiracy by the U.S. government to spy on its own citizens, in defiance of the Constitution they are sworn to uphold, is huge. Until now, they've been an integral part of the conspiracy by being silent about such things, and portraying those who are concerned about such thins as "crack pot, conspiracy theorists, tin foil hat wearers," and other derogatory phrases.

Just as we are finally seeing a flood of vindication in the world of exotic free energy (several more stories pending), so also are we now seeing a flood of vindication when it comes to these "conspiracy theories", now being shown to be fact all along.

And where is the heart of this spying operation going to be located? Right here in Utah. I'll be driving by it today as we go to visit our Safe Haven Villages friend, Dr. James Torgersen (Torg), who may be dying today, from a heart attack followed by two strokes. (Your prayers for him would be appreciated.) Utah, with it's concentration of Mormons, according to their doctrine, is supposed to be "a light to the world, and the saviors of men," but in this case, they are proudly showcasing the very thing they are supposed to be opposing. They are empowering the very big brother intended to spy on them and keep them under control.

I have a cousin-in-law who was a general contractor on the spy facility, and he finally left because his conscience could not abide by what he was involved in building. Now he is being hounded by US spy agencies, who are concerned about what he knows and what he might be saying, now that he's disaffected. He's one of the people who got a "job" from this facility construction.

His waking up to the point of following his conscience is, perhaps, a show of things to come as more people realize that something is very wrong, and they can't trust this government and "just follow orders." This flood of unfavorable coverage by the mainstream press is refreshing, to say the least.

Maybe we will wake up, after all, before hitting the wall as a civilization. I was beginning to think that we would have to hit the wall before waking up -- namely total meltdown of civilization. From what I can gather, waking up is prerequisite to free energy becoming generally available, because free energy is anathema to tyrants who want to control the masses, not empower them.

Just think of the chilling effect this public outcry about all this spying is going to have on the Builderberg group as they are presently meeting about big data. The agenda, no doubt, was going to be about how to increase the reach and effectiveness, but now you better believe the agenda is going to be how to retreat.
# # #
What You Can Do
Pass this on to your friends and favorite news sources.
Click to Tweet: http://clicktotweet.com/7781Y
Donate to PES Network to help us keep this news and directory and networking service going.
Subscribe to our newsletter to stay abreast of the latest, greatest developments in the free energy sector.
Let professionals in the renewable energy sector know about the promise of this technology.